08 Nov

The Right age to Begin Anti-Ageing Wrinkle Treatment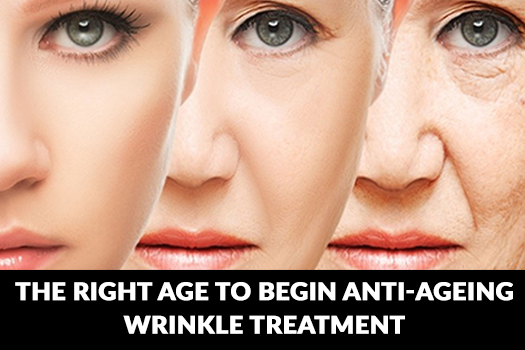 Anti-ageing is a major concern among ladies. A new concept called "Preventive anti-ageing" is being heard a lot. And do you know what it means? well, preventive anti-ageing is all about taking care of your ageing requirements quite long before your skin actually begins to show signs of ageing. You will hear women who cross 25 are in the hunt of good anti-ageing products.
And among anti-ageing, the majority of the concern lies in wrinkles. Yes, wrinkles are the ageing lines which can be seen on both your face and skin. And most of the anti-ageing products target towards a reduction of wrinkles. But before you start using any wrinkle reduction cream you must know that what is the correct time and age to use an anti-ageing wrinkle treatment.
As per a survey, anti-ageing products can start using as early as 18 years. There are some products which are designed to take care of the aging concerns of your skin even when you are just 18 years old. Can you believe you need to start using sunscreen just when you are 6 years old? And sun damage is the major reason for aging and wrinkles.
The market is flooded with anti ageing treatments. You will come across many anti ageing treatment specialist in Delhi. But only some of them are credible. Thus, you need to double check their credentials before making an appointment to any of the anti aging specialist clinic.
Even there are many anti aging treatment specialist in Noida. You can also have a look at their website and then make the decisions accordingly.
But along with the treatment, you also need to make some major lifestyle changes in order to full proof your skin against ageing. Quitting smoking and alcohol is one of the major steps. Other than this sleeping peacefully and drinking lots and lots of water will also provide you with a better skin. And before you jump to any of the anti ageing wrinkle treatment products don't forget to do a patch test and double check the ingredients. This will give you an idea that whether the product will work for you or not.
Welltopia's Youth-BackTM Emulsion: We at Welltopia have developed a Youth-BackTM emulsion that has following impact:
Reduces sebum production, thus reducing oiliness
Fights bacteria on skin, thus reducing acne
Enhances collagen production, thus reducing wrinkles and enhancing natural elasticity of skin
Thank you for reading this.
Dr. Sandeep Gupta
Director, Welltopia